MY 5 FAVORITE HAIR PRODUCTS FROM 2015
The end of the year is upon us, and I wanted to make sure I shared my 5 favorite products from 2015 before the year became a thing of the past. I truly enjoyed 2015; it was a great year, and I was definitely introduced to some great products! Take a look at the 5 products that I'll be bringing with me into 2016:
Pantene's Truly Natural Hair Co-Wash Conditioning Cleanser ($4.99) This Co-Wash became a favorite after I learned that naturally, curly hair benefitted more from cleansers that did not contain suds. Although I had been using products that claimed to be "sulfate-free," they still contained suds, which stripped hair of its natural oils making it drier, tangled, and prone to damage.
You can read the ingredients list here, and you can read my review of the co-wash here.
I will say that although this product does not lather, your scalp will surely be clean after using it!
*Image from target.com.
Mizani 25 Miracle Milk ($20.36)
The Mizani 25 Miracle Milk is definitely one of my favorites from the year. It is "a lightweight leave-in treatment that provides 25 benefits in just a few sprays. This easy-to-use product preps hair for styling, helps detangle with less breakage, provides moisture, protects against heat damage and is free of paraben, sulfate, drying alcohols and mineral oil" (mizani.com). I was first introduced to this product by my friend, Reece, who is a Mizani Hair Artist and Educator, as well as stylist.
This product is great for detangling the hair and usage as a leave-in conditioner, as it has amazing slip and is a great moisturizer. Reece has also used this product when straightening my hair and I have not seen any damage. I especially love this product because it is paraben and mineral oil free, which is great for promoting a healthy scalp and hair.
You can read more about the benefits and the ingredients by clicking the appropriate titles.
*Image from ulta.com.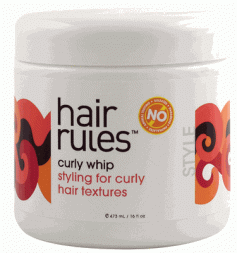 hair rules Curly Whip ($5.99-53.99) The hair rules Curly Whip is a gel based product that works especially well for wash & go styling. It is great for defining curls and providing hold without the crunch!
This product's "protein-enriched formula tames frizz and protects curls from humidity, keeping them soft, supple, and shiny. [It] Controls and defines wiry curls without crunch, infusing them with essential moisture" (hairrules.com). Read the ingredients here.
I was first introduced to this product over the summer after briefly working at the hair rules Salon in NYC. I fell for this product because it defined my curls very well and showed me how to achieve my best wash & go yet! This product works well when applied in the shower on soaking wet hair. It helps to clump and stretch the curls to avoid shrinkage, and it holds the hair in place without making it hard or crunchy!
You can view my wash & go video here, where I show you how to use the product for the best wash & go results.
*Image is from treasuredlocks.com.
DevaCurl SuperCream Coconut Curl Styler ($28) This styling product made its way into my life after hearing so much about it from other curlies on Instagram. Curly girls got their hands on this product after purchasing CurlBox's September 2015 box, and after I saw so many girls raving about it, I had to see for myself! This "NEW, rich coconut oil infused styler gives total freedom to express yourself with your curls. Whether you want to smooth, soften, shape, stretch, moisturize, define, control, boost volume, twist-out, tame frizz, add shine or switch up your look, SuperCream does it all" (devacurl.com).
You can read the ingredients here.
I absolutely love this product because it really defines my curls and leaves my hair extremely soft. I also like that this product dries quickly, so I don't have to worry about drying it in any way or worry about leaving the house with wet hair. This product is very easy to work through the hair and less is definitely more!
*Image from popsugar.com.
Klorane Extra Gentle Dry Shampoo with Oat Milk ($9-30) I like to straighten my hair occasionally and sometimes need a pick-me-up in between washes. This is where the Klorane Dry Shampoo comes in! I received the travel size earlier this year and and hadn't used it until late November/early December. Let's just say I was pleasantly surprised by the results.
The product:
Cleans hair without water

Restores volume

Saves time and water

Extends the life of blowouts
You can read the ingredients here.
I loved how this product revived my week old blowout! It lifted my flat roots and gave my hair a fresh scent, which allowed me to wear my hair in the straightened style for few more days. I then proceeded to use a wand curler to style my hair and I had great volume!
*Image from rickysnyc.com.
Here are some images with the products in use:
hair rules Curly Whip
DevaCurl SuperCream Coconut Curl Styler
Mizani 25 Miracle Milk & Klorane Dry Shampoo with Oat Milk
Pantene Truly Natural Hair Co-Wash Cleansing Conditioner & hair rules Curly Whip
You can also check out some more images on my Instagram!
Until next time,
Have you tried any of the above products? What products will you be taking with you into 2016? Share your thoughts below!